Global Business
Worldwide industrial business services
Email us for a personal appointment to tour our incredible facility.
Horse owners can enter a full time club membership for full time service. Lessons, grooming, training rides, lunges, turn outs, blanketing, clipping all included.
Meet our Show Team Riders. From young to mature. Some clients have been here for over 22 years. We are truly proud of their accomplishments.
Upcoming Horse Show Dates
Global Business
Worldwide industrial business services
Hourly lessons of a customized program to suit your specific needs. English, Western or a Trail Ride.
4 days, 4 hours a day of riding and lots of hands on activities with ranch etiquette, crafts and horsemanship.
Give your child, their friends and family a birthday to remember forever. 2 hour sessions with horses and then picnic in our area with family and friends.
Browse our variety of jackets, riding shirts, sweaters, caps, visors and saddle pads.
Dana Smith Show Team,Inc.
Proudly serving the
Orange County equestrian
community since 1983.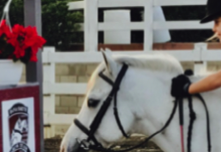 Making your Equestrian dreams come true.